It's been a busy olde day in the world of Aircraft doing odd things.
Lets start from the top:
Merpati Nusantara Airlines, Flight 836 met with a nasty end after a flight between Sorong and Manokwari, Indonesia.
The flight, operated by Boeing 737-300, overran the runway on landing, coming to a rest 200 meters beyond it. The aircraft broke into several pieces on halting, with 109 people aboard (103+6) with 3 serious injuries, 20 major injuries but all board escaped alive.
Officials said heavy rain may have caused the crash but that the pilots had followed safety regulations.
As a side note, Merpati Nusantara Airlines are on the EU Blacklist for flying to and from the EU due to the safety record (not their equipment would make it)
---
Cathay Pacific have trouble with one of their A330's.
In their first major incident for 35 years, A Cathay Pacific A330 Flight CX780, from Surabaya, Indonesia to Hong Kong due to a suspected left engine problem shutting down on approach .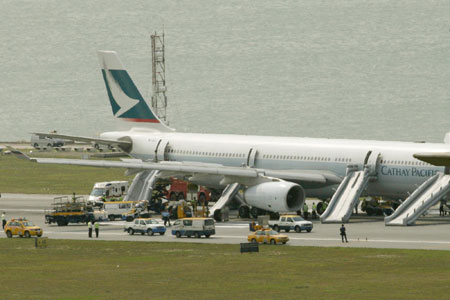 Photo – China News Daily
An emergency evacuation of passengers was initiated after the aircraft landed as can be seen on the pictures, with slides deployed.
There were 323 people aboard (309+14) and 8 passengers were injured during the evacuation – two of which have been discharged.
All four tires on the left of the aircraft and two on the right deflated, and they were designed to deflate in emergency situations to prevent them from bursting, Cathay Pacific Airways' Chief Executive Tony Tyler said.
Asked about engine problems, the cause has yet to be determined and a report on the matter will be released in about four weeks.
---
Chemical Fumes cause AA flight to divert.
And finally it seems, an American Airlines AA49 was also having problems with a Boeing 767-300 with a Paris to Dallas service. when reports of chemical fumes in the cabin causing crew dizziness.
The Boeing 767 landed safely just after 1345 GMT. No-one was injured out of the 145 (133+12).
American Airlines have stated "No further details are available at this time, but engineers are currently investigating the potential source of any fumes".
A rescue aircraft will be on the way to pick up the stranded passengers.
---
Prehaps the most important thing to say is that whilst there was some injuries in these incidients, every person has got out alive.
That has got to count for something.