One of the things that you're drilled into that you've got to keep within your 10kg hand luggage allowance before you start paying hand over fist for choosing Ryanair.
Well to help you, they've worked with Samsonite to create… a compliant bag.
To quote:
To encourage more passengers to switch to carry-on bags Ryanair and Samsonite have designed a quality, durable, lightweight carry-on bag which (when properly packed*) complies with Ryanair's approved carry-on bag dimensions.
You'll note the term "properly packed" – as it's a softsided bag, it's overpackable. Overpack it, it won't fit in the sizers. If it doesn't fit, then it's time to open your wallet up again.
And the price for this privilege? £69 or €79. Which is about a Ryanair fare when you price everything together.
Obligatory picture: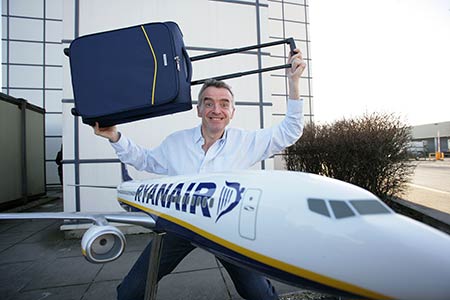 Whilst it might suit some people, I'll happily stick to my little rucksacks… (Which are substantially less), or head to Primark…