Expect transportation chaos if you're coming into London for the next few days the London Underground and Heathrow Express/Heathrow Connect services will be affected by strike action.
Heathrow Express
The strike is running from the 29th April to 30th. Trains services will be reduced to 2 trains an hour from/to London:
London Paddington To Heathrow T5. First train departs at 06:10, with services departing on the :10 and :40 past the hour, with the last service at 22:10
Heathrow Terminal 5 to London Paddington: First service to depart Terminals 1 & 3 will be at 06:03, from Heathrow Terminal 5 at 06:12. From there, services depart on the  :12 and :42 and past the hour with the last service at 22:12.
T1 to T4 Shuttle will operate every 30 minutes
Heathrow Connect
Heathrow Connect is suspended during the strike days (29th/30th April).
User First Great Western services between London Paddington and Hayes and Harlington for local connections, and use Bus 140 to/from the Heathrow T1/T3 Complex
Passengers holding pre-booked Heathrow Connect tickets between London Paddington and Heathrow may use Heathrow Express at no extra cost
London Underground
The RMT strike commences at 21:00 28th April, with services running down before then. The advice is to complete your journey as soon as possible
The Piccadilly (connecting Central London to Heathrow) will be mostly closed, with no services expected to the Heathrow terminals. See http://www.tfl.gov.uk/cdn/static/cms/documents/strike-advance-travel-advice-28-to-30-apr.pdf for how hard you will be hit (as well as all the other underground lines)
Get used to the bus network quickly, and avoid using the buses at peak times if possible.
Services are not expected to return to normal until the 1st May 2014, and if unions and Transport for London fail to reach an agreement, strike action is expected from the 5th May 2014 again.
London Underground expect to operate services as below: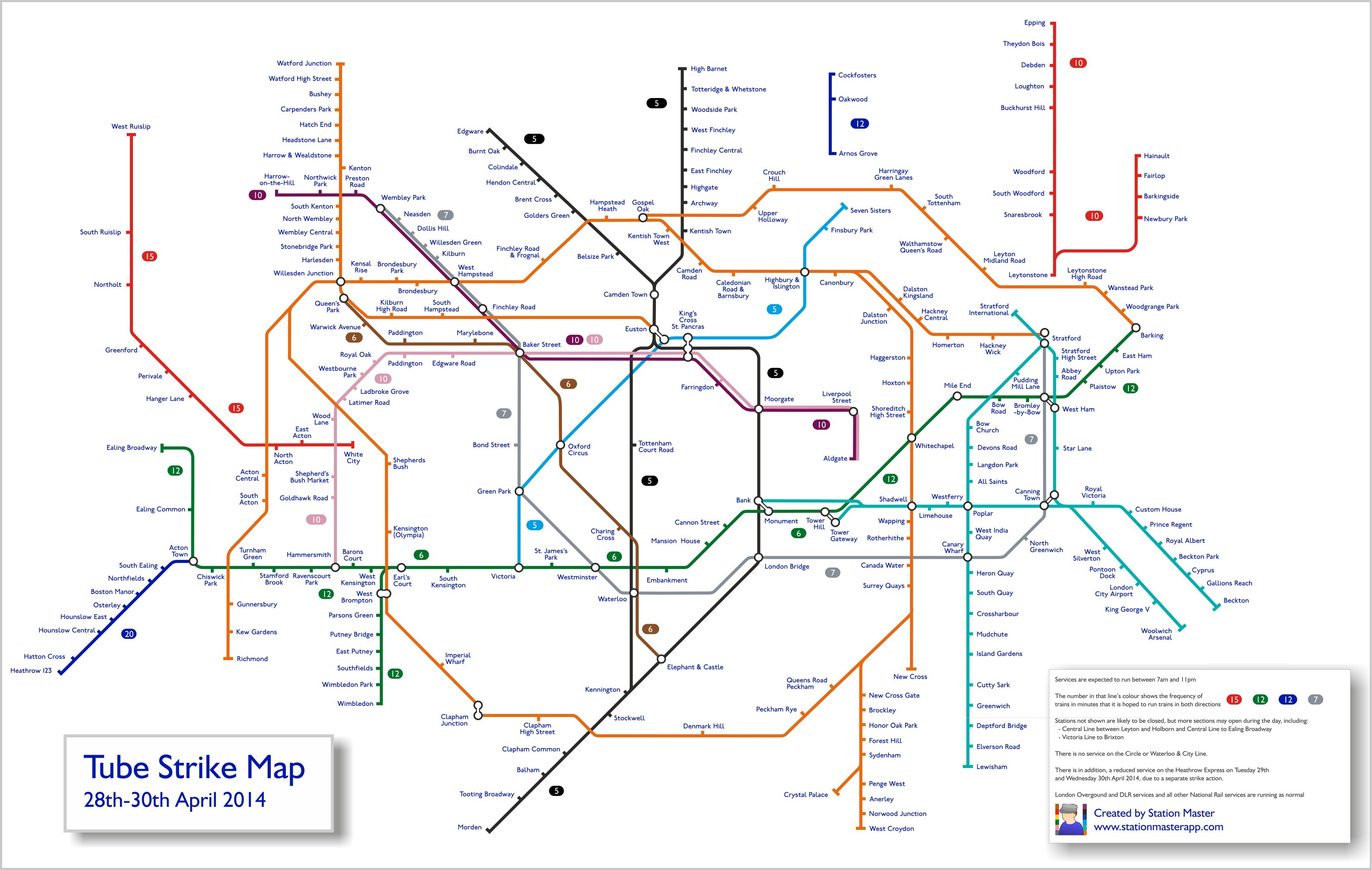 Click to enlarge – Image StationMaster- http://www.stationmasterapp.com/blog/2014/04/tube-strike-map/

If you're coming into London via Gatwick or Stansted you will not be affected as trains are expected to operated normally –  however you may be impacted by the London Underground strike when you reach Central London.
As usual, plan ahead for your journey – as it's going to tough over the next few days if you're relying on public transport in and around London.