Book it Danno! Travelodge, London City Airport
Index:
Travelodge, London City Airport
After getting off the plane, it was a matter of following the crowd to the UK and Ireland entrance, and through UK Customs. From there, it was straight into UK.
Plane to exit, less that five minutes. The next 10 minutes were spent walking and following the GPS on the phone to my hotel for the night: the Travelodge London City Airport.
Sure, I could had waited for a bus, but for that distance – I wasn't going to make a special effort waiting for the bus.
The 10 minute walk also was a good chance to stretch my legs. Never a bad thing.

Exterior (Shot in the morning)
Check in was handled with ease – mainly as I had paid for everything in advance. As I had paid for my Internet access in advanced (for all of £3 for 24 hours), this was in my booking too, and accessible once I entered the code that was in my booking.
With an access key in hand, I headed up to my room.

Food and Drink area – I mainly passed.
The elevator bank.
My room was towards the airport as opposed to the other side – which was towards the Docklands Light Railway.
Going into my room, it was time to walk down the endless corridor.
Eventually, I reached my room, and opened it.
So, we have a pretty standard room here…. and that's no bad thing – as I needed to rest.

Tea and Coffee making facilities
The bed itself was comfortable, as was the room temperature – always a good thing. Put it like this – I got a decent nights sleep out of the bed, which is always a good thing in my book. The Internet access speed was pretty reasonable which was useful as it allowed me to get bits and bobs done before the big flight the next day.
Not that I could check in, but that's another matter completely.
The bathroom was simple, with the typical pump dispenser type amenities, but the bathroom was clean, and the water was hot. Never a bad thing.
As morning broke, I had a look outside.. and I saw the back end of London City Airport.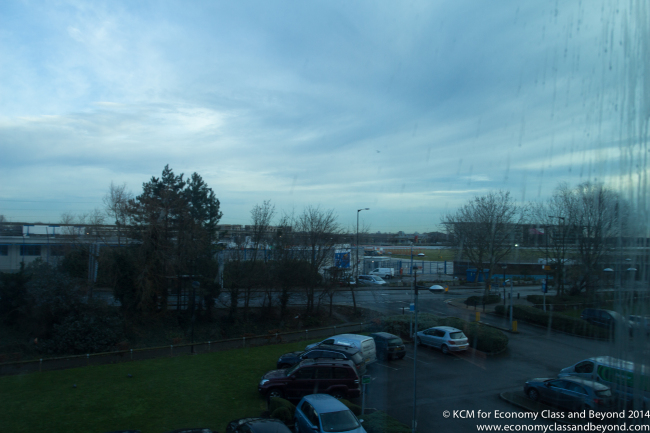 Shame the windows weren't clean….

With my brain still in work mode as opposed to being in holiday mode I was up and active by 8am.
Grr.
With me up and active, I had a quick count of memory cards… and found I was a few short. A quick look online showed there was a PC World in Canary Wharf, and it wasn't that far away.
With my bags packed, I checked out by dropping my key off
Seriously – that's it.
With that done, I cheated… and grabbed a bus back to City Airport for a grand total of two stops.
Overall: For this trip, I needed a cheap crash pad in London. The London City Airport Travelodge ticked all the boxes at £42 all in. It was comfortable, warm, a great bed and a bathroom that was usable. That ticked all the boxes for me  – and if you've got a flight out of London City Airport, there are a lot of expensive options nearby if you're so inclined. As I wasn't hanging around – this did the trick nicely.
For a budget option – Recommended.
Next: A quick run to Canary Wharf, and London City Airport.
---
Welcome to Economy Class and Beyond – Your no-nonsense guide to network news, honest reviews, with in-depth coverage, unique research as well as the humour and madness as I only know how to deliver.
Follow me on Twitter at @EconomyBeyond for the latest updates!
Also remember that as well as being part of BoardingArea, we're also part of BoardingArea.eu, delivering frequent flyer news, miles and points to European readers.