It's Sunday again, so it must be time for some more airplane art.
This week, we have a Qatar Airways Airbus A350-900 pushing back from its home base of Hamad International Airport, Doha as it prepares to head off to its next destination somewhere around the world.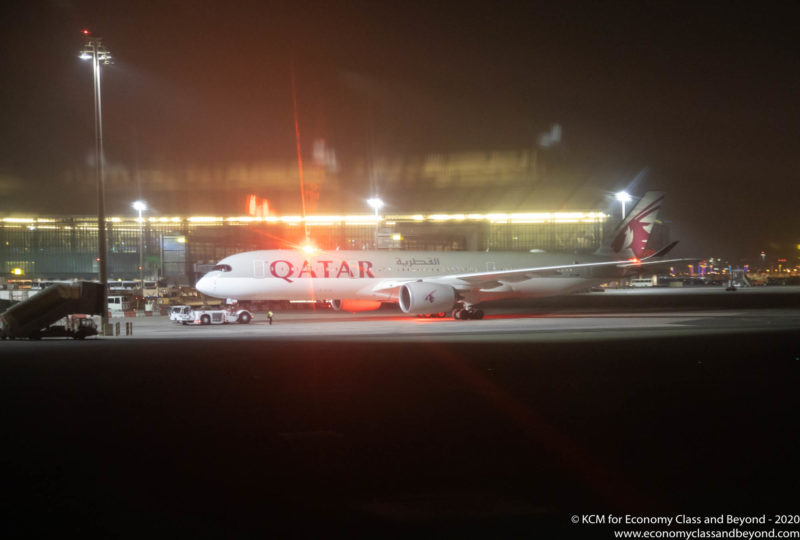 Qatar Airways operates 34 Airbus A350-900 aircraft. It also operates 14 of the larger A350-1000 (interestingly – Qatar Airways was the launch customer for both of the A350 types).
The airline also operates the Airbus A330-200, Airbus A330-300, Airbus A380, Boeing 777-200LR, Boeing 777-300ER and Boeing 787-8.
Currently, the Airbus A350 and Boeing 787 fleets are utilised by the airline due to reduced demand across the Qatar Airways network.
This aircraft – A7-AMF – joined the Qatar Airway fleet in September 2018, making the aircraft just under two years old. It is configured in the classic two-class configuration with 36 Business Class seats (fitted with the Collins Aerospace SuperDiamond seat) and 247 Economy Seats (Recaro CL3620).
You can find my review of the A350 Business Class seat here and the Economy Class seat here.
More Airplane Art next week!
Photographers Notes:
Camera: Canon EOS R
Lens: Canon EF 24-105mm f4 IS L Series lens with EF to RF adaptor
Settings: ISO 5000, 60mm, 1/30 at f4.0
Shot aboard a Qatar Airways Airbus A350-1000 as I'm heading to Singapore – trip report here
Shot in August 2019.
---
Welcome to Economy Class and Beyond – Your no-nonsense guide to network news, honest reviews, with in-depth coverage, unique research as well as the humour and madness as I only know how to deliver.
Follow me on Twitter at @EconomyBeyond for the latest updates! You can also follow me on Instagram too!
Also remember that as well as being part of BoardingArea, we're also part of BoardingArea.eu, delivering frequent flyer news, miles and points to the European reader.