This week in Travel Technology, I somehow end up looking at a Flying Tiger for something else… and ended up with a pair of their wireless earphones. At £20, this is worth investigating when you're caught short on headphones. But are they passable for day-to-day use?
What do you get for £20?
We've all seen the Wish adverts for knock-off EarPods, with no-name Bluetooth headphones coming down in price fast. But Flying Tiger tends to have some rather interesting products.
Including these.
Wireless in-ear pod earphones for £20 all in. You can get them in green, black or white. I went for the green ones because… well. I had no good reason, other than they are not black or white.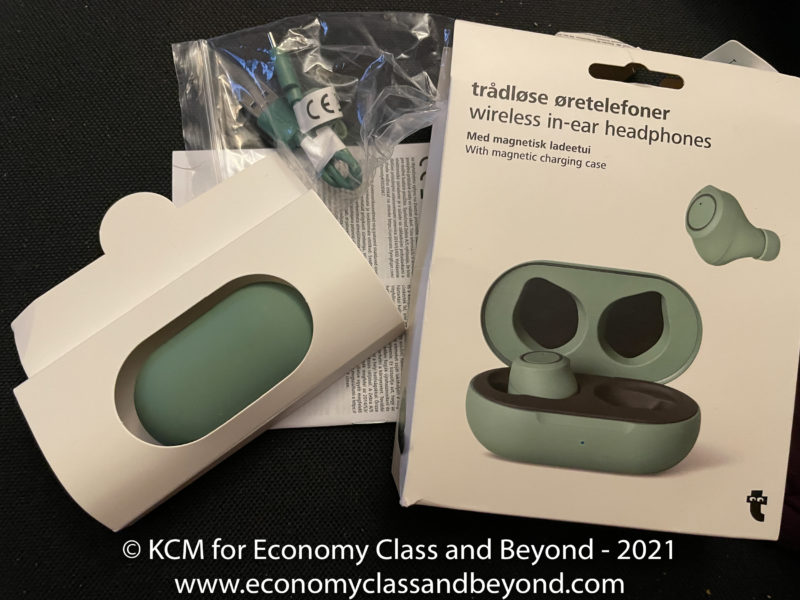 In terms of rated battery life:
Earphones: 3 hours playback/8 hours standby
Case: 1-day standby
Charging time 1-hour charge for earphones and case.
These won't win awards for long-haul flights (and the Apple product is nearer 5 hours of life), but then you have to factor these earphones 1/6th the cost of AirPods.
So, let's unbox!
In the box we have:
The in-ear headphones
Instructions
Charging cable and ear tips
Let's flip the earphone case open.
Well, those look like wireless earphones. No particular flair, but they look like… wireless earphones
The instructions look easy enough if covering a lot of languages.
However, they miss one little thing: remove the plastic separating the earphone from the charger back. That was a few minutes of confusion. However, once the plastic was gone, the buds started charging up.
Oh yes. They use USB-C to charge, meaning you can use your (modern) laptop charger to charge them with.

The charging LED's are now alive!
With us being in 2021 – like it or not, it is welcoming to see
Once there was a bit of charge, I was able to pair without issue. As these are generic as heck, I had to pair them via the Bluetooth menu on my iPhone. Your device may vary where things are.
Comfort and Fit
With three sets of tips (small, medium and large), I tried the basic medium tips. They seemed to do a good fit and seal – to the point they were very good at sound isolation… too good in fact when I had them in and couldn't hear someone speak next to me.
If I'm out and about, I vary between one earphone in or both. One in, one out gives me a lot more situational awareness, as these do not have a Transparency Mode on them.
Controls
The earbuds have capacitive touch controls
In theory, it's pretty simple. In practice, they're almost annoying, with different controls for each earbud.
Probably the only control I used in anger was the tap to pause and tap to answer. I almost miss the cable dangling around the back of my neck, with a physical controller.
But even then, those aren't exactly 100% reliable.
Range
The headphones are rated for use around 10 meters away from the device. This seemed accurate as I left the case and phone at my desk, whilst pottering around one of the offices I'm based out.
Things like walls will get in the way of the signal – so be warned.
Your performance may vary. Bluetooth isn't the greatest of protocols (however much it has improved over the years) and like most headphones, bodies of water/mass won't help in transmission (like for example, a human body).
Audio tests
I've assembled a YouTube playlist of some of the tracks I test with – namely, then you can compare them with your headphones or audio device.
It's an eclectic mix – mostly actually lives on my iPhone for straight transfer to the audio device
The list is published on YouTube, but for those who don't want to click a link, here is my list:
Crab Rave – Nordstrom
Keiino – Spirit in the Sky
Justified and Ancient – The KFL featuring Tammy Winnett
Rhapsody in Blue – Gary Graffman · New York Philharmonic Orchestra · George Gershwin (Manhattan film version)
Sands of Time – T.Stebbins/Sugano
On Her Majesty's Secret Service – John Barry/The Propellerheads/David Arnold
Glorious – Andreas Johnson
Unfinished Sympathy – Massive Attack
Pompeii – Bastille
A Little Time – The Beautiful South
The Ball – Craig Armstrong
Creep – Scala and the Kolacny Brothers (cover of the Radiohead version).
I ran a lot of other stuff through this, but I think I might damage the eardrums of some of you listen in.
So, the earbuds are unsurprisingly base-heavy. But I think you guessed that.
Saying that the beats in the Justified and Ancient were nice and clear and not distorted.
Vocals were reasonably clear, with Scala's version of Creep being very clear (even if the recording has more than its fair share of hiss that wasn't present in any other track that album).
Distortion was not much of a problem, except when cranking up the volume to maximum. Saying that I had the earbuds on minimum volume most of the time – mainly as they were loud enough for travel on the bus and in the office when I needed to get on with stuff without disturbing people.
Stereo separation seemed rather solid, with the introduction of "On Her Majesties Secret service" showing them off with the trumpets passing from, ear to ear. Elenor Rigby by The Beatles shows audio is working right (with Paul McCarney's solo coming clearly out of the right ear and the orchestra playing on the left (until you get to the words "all the lonely people", where it goes into stereo again).
Recording Quality/Call Quality
As usual, your mileage will vary with the joy of Bluetooth. On the few calls I tested with people (both video and voice), the audio quality was clear
Impressive for the price
As headphones, they're reasonable enough quality They're not going to blow you away with their simplicity of setup, tight OS integration or some of the niceties that other headphones have.
Rather, they're a simple set of wireless earbuds, that allow you to listen, intact with you. They'll take calls, they'll play music
Whilst the control schema is not what I'd call "good", it is passable enough to use on a day-to-day basis.
And looking at the price – £20 – they fall into the category of "pick up and go", rather than a considered purchase of Bose/Sony etc.
In cheap headphone money, that's at the bottom end of the market (I've tended to favour SkullCandy Bluetooth earphones in the past when travelling). These are very akin to those.
Except these are a lot easy to lose. Although my SkullCandy earphone retention rate isn't exactly high…
Put it like this, I'm driving these daily with minimal complaints. For £20 to listen to bad music on the go, whilst not feeling that guilty if they get lost, they're impressive for the price.
---
Welcome to Economy Class and Beyond – Your no-nonsense guide to network news, honest reviews, with in-depth coverage, unique research, as well as the humour and madness as I only know how to deliver.
Follow me on Twitter at @EconomyBeyond for the latest updates! You can follow me on Instagram too!
Also remember that we are part of the BoardingArea community, bringing you the latest frequent flyer news from around the world.