It seems peace – or a variety of peace – has broken out between Toulouse and Qatar, with Airbus and Qatar Airways reaching a settlement over Qatar Airways Airbus A350 paint issues and the partial grounding of the type.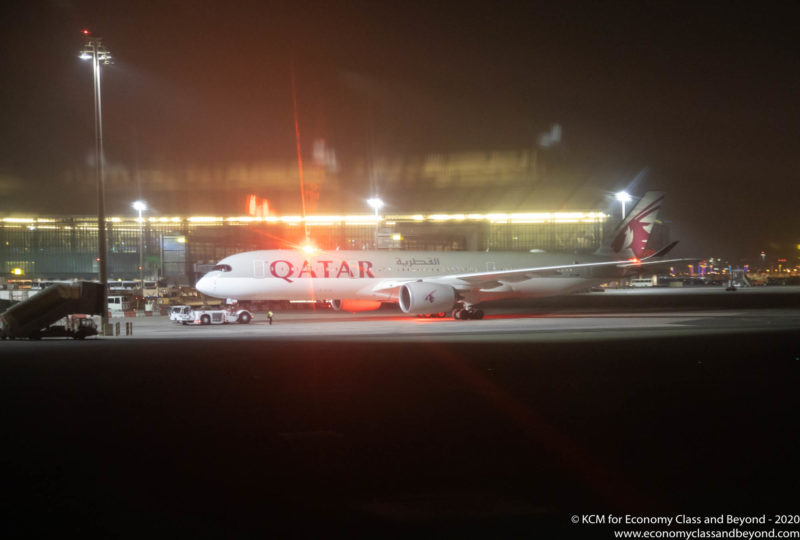 Qatar Airways Airbus A350-900 at Hamad International Airport, Image Economy Class and Beyond
It's a rather short statement, with Airbus and Qatar Airways stating:
Qatar Airways and Airbus are pleased to have reached an amicable and mutually agreeable settlement in relation to their legal dispute over A350 surface degradation and the grounding of A350 aircraft.

A repair project is now underway and both parties look forward to getting these aircraft safely back in the air.

The details of the settlement are confidential and the parties will now proceed to discontinue their legal claims.

The settlement agreement is not an admission of liability for either party.

This agreement will enable Qatar Airways and Airbus to move forward and work together as partners.
Well, we'll see what happens next
It is pretty hard to work out what happened to make both sides discontinue their arguments and defences – certainly, this case has been dragged around the courts enough (to the point where I suspect the only people making money from this were the lawyers).
At least at this point, neither has to face the other in open court.
Reports indicate that Airbus will reinstate the existing orders for 23 Airbus A350 and 50 Airbus A321neo aircraft from Bloomberg and The Wall Steet Journal.
We'll have to see what happens next between the two companies. Certainly, it's going to be some time before the relationships between the two companies are fully repaired
---
Welcome to Economy Class and Beyond. Your no-nonsense guide to network news, honest reviews, in-depth coverage, unique research, as well as the humour and madness I only know how to deliver.
Follow me on Twitter at @EconomyBeyond for the latest updates, as well as Mastodon too! You can follow me on Instagram too!
Also, remember that we are part of the BoardingArea community, bringing you the latest frequent flyer news from around the world.