It seems the Sustainable Air Fuel agenda continues, with Qatar Airways signing a deal with Shell for Sustainable Aviation Fuel Supply at Amsterdam Schiphol Airport.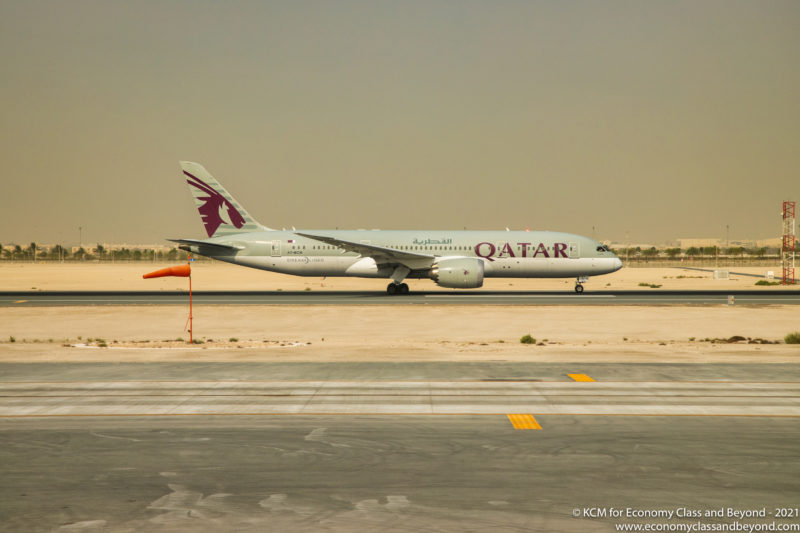 Qatar Airways Boeing 787-8 at Hamad Internationa Airport, Doha – Image, Economy Class and Beyond. 
Shell will source 3,000 metric tonnes of neat Sustainable Aviation Fuel (SAF) for Qatar Airways at Amsterdam Schiphol airport. It encompasses the existing jet fuel contract with Shell at Amsterdam which will now see Qatar Airways using at least a 5 per cent SAF blend over the contract period for fiscal year 2023-2024.
The move is aligned with the oneworld alliance attempting to hit a 10% SAF mix by 2030 across the group. It's also a chance for Qatar Airways to move ahead of government targets, whilst reducing emissions released when using the fuel.
Qatar Airways Group Chief Executive, Mr Akbar Al Baker, said:
"At Qatar Airways, we are strongly committed to supporting the industry's effort to ramp-up the use of sustainable aviation fuel, as one of the key pillars to decarbonise the aviation industry. Last year, we signed our first offtake agreement in the US, and now we are placing a multi-million US dollar SAF deal in Amsterdam to illustrate our SAF commitment and reiterate our calls for a more robust SAF supply chain across our global network".
"We remain steadfast in our ambitious target of 10 per cent SAF use by 2030 and this  announcement, establishes another landmark for Qatar Airways that underlines the positive outcome of the industry's collaboration which is critical to accelerating the SAF supply and achieving our target. SAF is still 3 to 5 times more expensive than fossil-based jet fuel. This is why it is essential for all stakeholders to play their part in facilitating research & development of SAF facilities, enhancing economies of scale, providing financing and placing supportive policies".
Mr Jan Toschka, President of Shell Aviation, said
"Qatar Airways and Shell have a history of collaboration, so it is fantastic to now work together on decarbonisation as we supply them with SAF for the first time,"

"SAF is a key lever for decarbonising aviation, but scaling its supply and use requires concerted action from across the aviation sector. Today's agreement is a great example of the collaborative actions that are required to help accelerate aviation's progress towards net zero."
A long way to go
The industry is slowly working its way through the question of how it is going to hit Net-Zero by 2050 – and Sustainable Air fuel is seen as the hail mary that will deliver it to them, as well as improvements in the cabin and reducing weight.
However, the production of SAF will have to scale massively to meet the insatiable demand of airlines and carriers, as well as to reduce the cost of the SAF.
A way around is that airlines love to transfer the cost of at the moment and pass it on, either as a fare surcharge or an invitation to fund their climate programmes – or dress the surcharge as a "green" fare.
There's still a long way to go on this, but it's a start a least.
---
Welcome to Economy Class and Beyond. Your no-nonsense guide to network news, honest reviews, in-depth coverage, unique research, as well as the humour and madness I only know how to deliver.
Follow me on Twitter at @EconomyBeyond for the latest updates, as well as Mastodon too! You can follow me on Instagram too!
Also, remember that we are part of the BoardingArea community, bringing you the latest frequent flyer news from around the world.