Breaking news with an Asiana Airlines Boeing 777-200ER operating OZ214 crash landing at San Francisco International Airport.
The airplane was coming in from Seoul, South Korea and apparently crashed sometime after touching down on Runway 28. The Flightware map is at http://uk.flightaware.com/live/flight/AAR214/history/20130706/0730Z/RKSI/KSFO
Image: KTVU http://www.ktvu.com/news/news/local/boeing-777-crashes-while-landing-sfo/nYfcx/
A tweet from South California Fire Service indicates all passengers have been accounted for, with one critical injury. Latest numbers are 61 injuries, and two fatalities.
Reports also indicate that thee 777-200ER was nose of th pitched up as it crossed the threshold, possibly causing the tail to hit the tarmac, and with it shearing off the tail.
San Francisco Airport will be reopening two runways shortly, however with an incident as major as this – expect with incoming flights diverted, and outbound flights cancelled.
The picture CNN shows isn't a good one, with major parts of the plane burnt on the top of the fuselage, the undercarriage collapsed and the tail completely shorn off.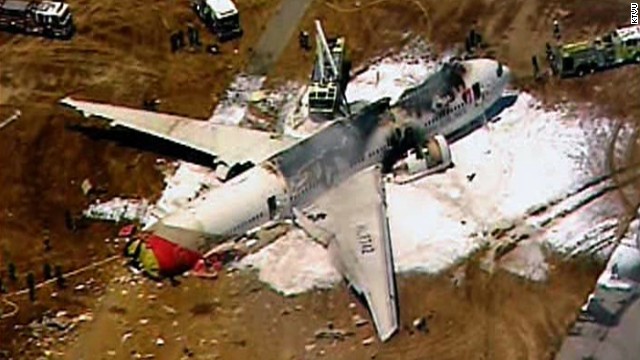 Image KTVU via CNN: http://edition.cnn.com/2013/07/06/us/california-plane-incident/index.html?hpt=hp_t1
NYC Aviation indicates the plane was short of the runway at http://www.nycaviation.com/2013/07/breaking-plane-crash-at-sfo/#.Udh4j1N5iRj
Latest Update: SFO to reopen two runways