As part of US National Aviation Day last week, as part of the tour I was on of Heathrow Airport, I was granted a special visit to somewhere you don't go to normally.
And that is the control tower at Heathrow Airport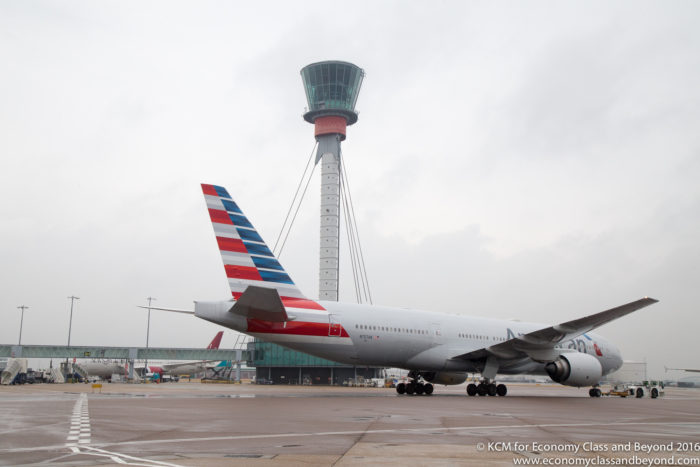 American Airlines Boeing 777 being towed with Heathrow Tower in the background – Image, Economy Class and Beyond
The structure itself is tall at 87 metres high (or 285ft for those who work in those numbers) – well it has to be to have a good view over the Heathrow Airport field and beyond.
This tower controls airfield operations as well as approaching and departing aircraft from the two busy runways of Heathrow Airport.
Access to the tower is tightly controlled as it is one of the most sensitive places in Heathrow. I was granted access as part of American Airlines visitors group… so this is very rare access indeed.

Model of the Heathrow Tower

Looking up at the Heathrow Tower

Perhaps the most important thing if you head up to any control tower is to keep as quiet as possible as there is safety critical tasks in progress. And I didn't want to be the one to speak loudly… for once.
It's a place where phones to silent, shutters to quiet mode and act like a very quiet mouse are good things.
I've been privileged in the past to enter the London City Airport Tower, and this would be my second tower visit… although never so high.
Let's go up it shall we and watch planes.
Because… planes.
We granted access tower – but restricted from going up to the operations section. Below the operations section is a 360 view of Heathrow – and that's where the following pictures came from.

The first view I had – The Heathrow Terminal 5 Complex.


Terminal 3 and Terminal 2 complex.
And from there… one could gaze down upon the traffic that was working in the Heathrow Area:

Delta Boeing 767-300ER

British Airways Airbus A320 

Emirates Airbus A380 beginning its takeoff run. 

Virgin Atlantic Boeing 787-9 Dreamliner.

Delta Boeing 767 completing pushback, ready for departure.


American Airline Boeing 777 taxing below us

The complete plane – taxing out of the Heathrow Complex.

Another American Airlines Boeing 777 parked at the gate

Singapore Airlines Airbus A380 taxing past as it heads to the runway… celebrating 50 years of Singapore.

British Airways Airbus A320 taking off – with British Airways World Cargo Centre in the background

A view you don' see every day – A British Airways 747 from overhead. 

Heathrow is a busy field – and considering the size of it – there's a LOT of movements going on at any time.

Air India Boeing 787 Dreamliner, with British Airways World Cargo Centre in the background


It's the British Airways Dove from above! 

British Airways Boeing 747 rotating at taking off – Not terminal 4 in the background (with A Royal Brunei Boeing 787 Dreaminer and a Vietnam Airways Boeing 787 Dreamliner…. with the wrong nosecone). 

As the tower is in the Terminal 3 segment of Heathrow, there's a lot of Virgin Atlantic actin – here's one of their Boeing 787 Dreamliners

And a long plane – the Airbus A340-600 

British Airways Airbus A320 taxing past… 

Virgin Atlantic Boeing 787 -9

British Airways Boeing 777 arriving at a hard stand at Heathrow 

An American Airlines Boeing 777 coming onto stand – it's waiting for the gate guidance system to activate so it can complete its journey.

American Airlines Airbus A330.
Heathrow Airport tower is operated by NATS. Their work primarily involves air traffic control services handing over  2.4 million flights and 250 million passengers

The very top of the tower.
We could see traffic arriving and departing on the monitors – the top display tracking planes as they arrive, taxi and depart
Whilst the bottom display shows a more regional viewpoint
And there are signs that Heathrow tower is home to many people as they watch, direct and move traffic in the region.

Air Traffic Controller Headsets

The visit was brief as operations were continuing – but one that will stay with me a long time.
Economy Class and Beyond would like to thank NATS, American Airlines and Heathrow Airport for the unprecedented access to the Heathrow Control Tower.
In addition, additional thanks for Airline Geeks for making the day possible, and for American Airlines UK team for being understanding hosts.
---
Welcome to Economy Class and Beyond – Your no-nonsense guide to network news, honest reviews, with in-depth coverage, unique research as well as the humour and madness as I only know how to deliver.
Follow me on Twitter at @EconomyBeyond for the latest updates! You can also follow me on Instagram too!

Also remember that as well as being part of BoardingArea, we're also part of BoardingArea.eu, delivering frequent flyer news, miles and points to European readers.