The airline industries aim of cramming more people into constrained metal tubes continues apace, with Cathay Pacific noting its next set of routes that  will get  10 across seating in it
Notably, the Hong Kong to London Heathrow route is due to receive this "upgrade"

Cathay Pacific Boeing 777-300ER – Image, Economy Class and Beyond.
According too Routes Online, the London Heathrow route will be swapped over from 19th June 2018 for their Three-Class Service out of Heathrow.
Additional routes to get a three-class include Rome and Johannesburg. Other services will use the new configuration during June as crews learn about the changes.
The first four-class 10-abreast route has been confirmed Hong Kong to Tokyo Haneda on CX548/CX549.
Configurations have been set for the 10 across types. Keep an eye out when you spot the seat maps:
Three-Class 10 Across Seating  (77K):
40 Business Class
32 Premium Economy
296 Economy Class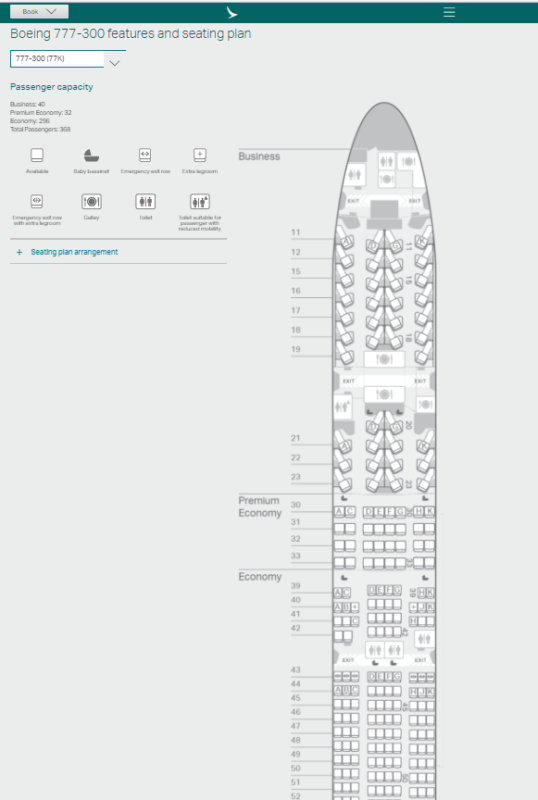 Four-Class 10 Across Seating (77A):
6 First Class Suites
53 Business Class suites
34 Premium Economy Seats
201 Economy Seats
Seat maps are at Cathay's site
Whilst 10 across seating is never a welcome sight in your authors option (Least of all 3-4-3 was fun enough of a 747 where you had space to play with with (6.08m cabin interior width). 3-4-3 in a 777 were the cross-section is narrower (at  5.84m), with narrower seats (welcome to the world of 17.2″ seats)
Business Traveller covered the new configuration in-depth. It might be worth a read if you have a Cathay Pacific flight soon.
Or if you're going from the UK, consider a 4-class 9-across service from Heathrow, or departures from Manchester or London Gatwick, which have 9 across seating with the Airbus A350-900.
Data: RoutesOnline
Seatmaps: Cathay Pacific
---
Welcome to Economy Class and Beyond – Your no-nonsense guide to network news, honest reviews, with in-depth coverage, unique research as well as the humour and madness as I only know how to deliver.
Follow me on Twitter at @EconomyBeyond for the latest updates! You can also follow me on Instagram too!

Also remember that as well as being part of BoardingArea, we're also part of BoardingArea.eu, delivering frequent flyer news, miles and points to European reader