Europe: Start voting now! Some time at Brussels Airport

In this musical spectacular…
Some time at Brussels Airport
I exited the plane, and started following the signs for connections. Whilst Brussels Airport has plastered the place with Red connection signs, it doesn't seem to be well implemented into which way one goes and how long its going to take.
As we're in Belgium, it's not a danger zone. But are you ready to take my hand? (Blanche: City Lights, Belgium 2017)

Hmmm.. What's this all about then….

Piano playing at Brussels Airport


The B Terminal Interchange shopping area Lots of comfy sofas too. And Smurfs.
I popped out into the departures area at the Non-Schengen Zone, and followed the signs – and I took my time. I had four hours plus connection waiting for me – and thus I didn't need to run. Or to do much really.
I headed over to the A Gates Interchange, and meandered to Passport control – where I was cleared to enter the EU.

Charity water stop. €1 or US$1.
I descended  to the A gates, and into the duty free shop. The joy of Duty Free Rat-Runs.

And ways of converting precious cash in to worthless paper.
At least this airport has Kinder Eggs with A330s in them…
And a famous Belgian selling stuff.
Exiting duty free, you're greeted with another Belgian Icon. A TinTin Rocket.
I was due to meet a friend round here for a catch up, but there's also a seafood restaurant, and coffee stand… and a sofa.
And big clear windows so you can sit and watch planes.
Who needs a lounge?
Whilst I didn't bring my usual spotting kit (mainly due to me staying in a hostel), I had fun with the Canon 100D and the 28-105 f3.5-f4.5 to take some passable images.

We'll go into this as a travel combo in a few days.
So, onto spotting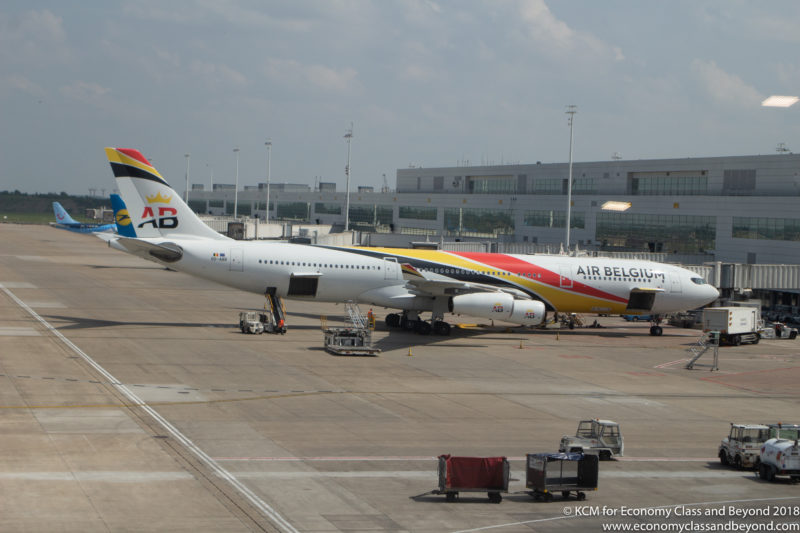 An airline I think a lot of us are having trouble working out and it's plan – Air Belgium (although it is a cracking paint job).

TunisAir Boeing 737-800 pushing back, TUI 737 pushing back, Brussels Airlines "Red Devils" heading in

Brussels Airlines A320 heading in. Icelandair Boeing 757 and TUI 737 too

Ukraine International Airlines Boeing 737-800

Qatar Airways Boeing 777-200LR
I spent some time catching up with a friend who was at the airport – and whilst a brief catch up, it was actually good to turn another twitter friendship into real life.
Alas, time was limited for him, and I was in the mood for additional liquid refreshment – so it was time to head off to a coffee establishment. And sometimes that Green Mermaid's siren song.

Yes. They even sell Brussels Mugs.
With une Grande Iced Americno svp, in hand, I went to check my mail on the tablet… and found a crack on the screen.
Grr.

And €3.65 for an Iced Americano. Airport prices…
I'm not exactly happy the screen is cracked (lets say I've had the tablet long enough – and it's my "free copy of Office 365 and Windows 10" device)… but that means I'll have to source another sometime.
Before October.
I sat back and watched the world and read a few work emails to keep me abused. Or crying. I'm not sure at this point of the game.

Beers and Cheers. And surrealy designed.
With some more iced caffeine down me, I started to make tracks to the gate. I got a replacement boarding pass and had a confirmation of the plane I would be on – it would be an Airbus A320.. but it will be the AeroSmurf. Oh yes ladies and gentlemen – I've scored a special.
I briefly walked into a toy shop to look at model planes… and quickly walked out.

But at €45 a model plane… no thanks.
I also saw the one of the first CRJ's in Lufthansa's new paintwork.
I headed to the gate for the Lisbon flight – and found the AeroSmurf was on final approach for the gate.
The gate area was busy – with people starting to queue a few minutes before boarding time
Alas, there was some delay on the ground that meant boarding was held back 20 minutes or so. Annoying, but not the end of the world.
Eventually, boarding was called for the flight – and it was time to head down to the waiting AeroSmurf and leave Brussels Airport behind.
Next: SN3819 Brussels National Airport to Lisbon Airport.
---
Welcome to Economy Class and Beyond – Your no-nonsense guide to network news, honest reviews, with in-depth coverage, unique research as well as the humour and madness as I only know how to deliver.
Follow me on Twitter at @EconomyBeyond for the latest updates! You can also follow me on Instagram too!

Also remember that as well as being part of BoardingArea, we're also part of BoardingArea.eu, delivering frequent flyer news, miles and points to European reader