With the first of the China Southern A350-900s being delivered to the airline – let's take a look at the all-important seating.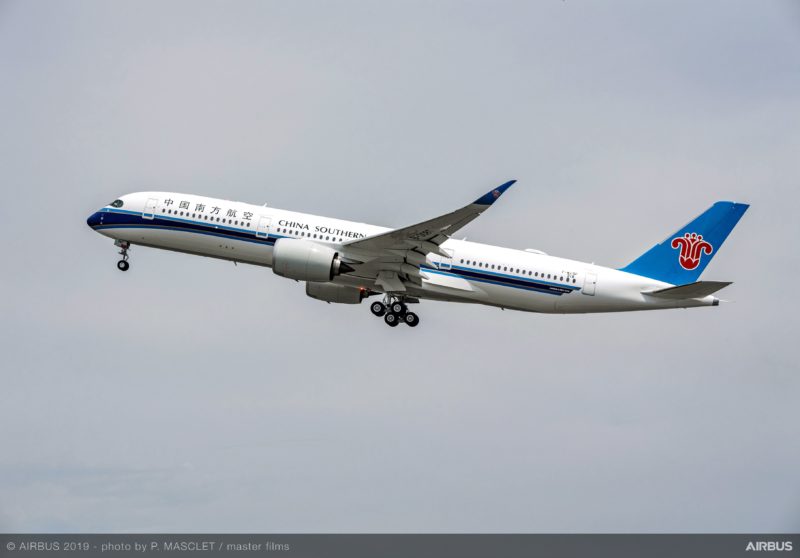 China Southern Airbus A350 taking off – Image, Airbus
And this plane will be nose-to-tail fitted with Recaro Aircraft Seating seats.
The three-class aircraft will feature three of Recaro's long haul seating products
The CL6710 Business Class Seat
The PL3530 Premium Economy Class Seat
The CL3710 Economy Class Seat
These seats will be fitted to 20 of the new China Southern A350-900 fleet aircraft.
So onto the seats
First up, the CL6710 Business Class Full Flat Bed Seat – which was line-fitted at the factory. The seats are installed in a 1-2-1 staggered formation, and of course, can go into a full flat-bed experience and an 18.5″ flat screen display. The CL6710 seat can also be found flying with TAP Air Portugal and El Al.

Next is the PL3530 Premium Economy Seat, offering a 38″ seat pitch, and various levels of recline and seating positions for a person to get comfortable in, with individually-adjustable calf rests in a 2-4-2 configuration.
Finally, we come the CL3710 Economy Class Seats which is fitted with a six-way headrest and neck support ensures optimal use for both shorter and taller passengers. The seat is fitted with an IFE system and USB outlets, laid out in a 3-3-3 formation.

In quotes
Dr. Mark Hiller, Recaro's CEO said:
"China Southern, the biggest Airlines in APAC, equips 20 of its A350-900 aircraft with full cabin Recaro seats; saying I am proud would be an understatement,"

. "We are very happy to contribute to the satisfaction of China Southern passengers by combining lightweight design with seating comfort and quality. As two strong and reliable brands, we both aim to always deliver the absolute best to our customers – whether it be in business, premium economy or economy class."
China Southern Airlines is China's largest carrier, with over 840 passenger and cargo transport aircraft. It operates more than 3,000 daily flights to 224 destinations in 40 countries and regions across the world.
A comfortable step in the air
With China Southern seeking its own path (indeed, it's forming its own joint ventures and will be exiting SkyTeam by the end of the year) and choosing products that will appeal to a wide audience.
It's also a major vote of confidence in Recaro too with another airline choosing to install its seating products alone in an aircraft.
Currently, the A350 has been assigned domestic routes – but with more to come as well as a premium configuration as installed, they'll be flying long haul sooner rather than later.
---
Welcome to Economy Class and Beyond – Your no-nonsense guide to network news, honest reviews, with in-depth coverage, unique research as well as the humour and madness as I only know how to deliver.
Follow me on Twitter at @EconomyBeyond for the latest updates! You can also follow me on Instagram too!
Also remember that as well as being part of BoardingArea, we're also part of BoardingArea.eu, delivering frequent flyer news, miles and points to the European reader.