Like a lot of airlines British Airways has been hit with the Boeing 787/Rolls Royce Trent 1000 engine problems. Whilst some airlines are extending usage of some frames, British Airways is getting extra lift on three routes:
London Gatwick to New York JFK
London Heathrow to Cairo
London Gatwick to New York – JFK will receive an Evelop Airbus A330 instead of the booked aircraft on BA2273/BA2272  between the 27 October 2019-12 January 2020.

Evelop Airbus A330-300 departing Dublin
The flight will be as such  operated by Evelop Airlines pilots and cabin crew.
London Heathrow to Cairo is a little more complex, with Air Belgium ending its operations and Titan Airways replacing them.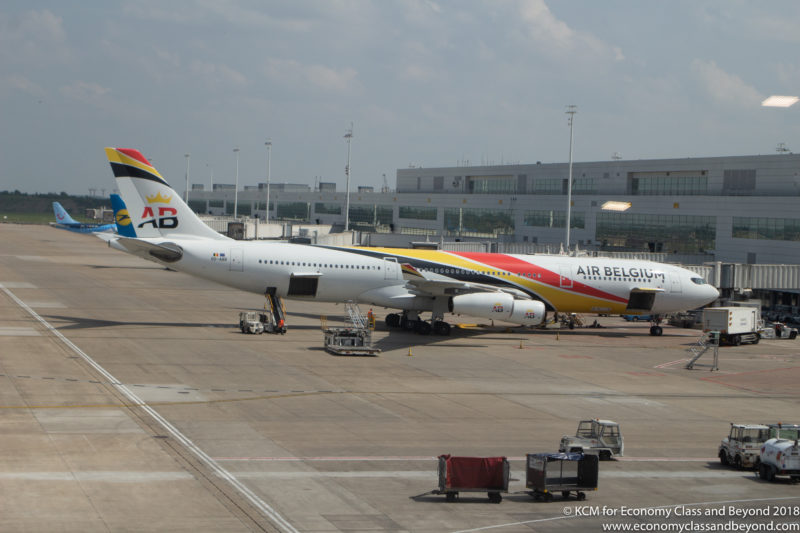 Air Belgium Airbus A340-300 at Brussels National Airport – Image, Economy Class and Beyond
Air Belgium will operate BA155/156 until  6 November 2019 outbound, 7 November 2019 inbound using an Airbus A340-300
Titan Airways will operate BA155/154  from 7 November 2019 to 12 January 2020 (outbound), 8 November 2019 – 13 January 2020 (inbound) using an Airbus A321
Again, these flights will be operated by the respective airlines, with their pilots and cabin crew.
There are implications for these routes, in terms of what sort of business class will be offered and no premium economy offered on-board – as such, both will offer a two-cabin service.
As usual, check ahead before you fly. On the Cario route, it will be a substitute aircraft. If you want to fly to JFK and have the BA experience, you may need to go around the M25 to Heathrow Airport…
---
Welcome to Economy Class and Beyond – Your no-nonsense guide to network news, honest reviews, with in-depth coverage, unique research as well as the humour and madness as I only know how to deliver.
Follow me on Twitter at @EconomyBeyond for the latest updates! You can also follow me on Instagram too!
Also remember that as well as being part of BoardingArea, we're also part of BoardingArea.eu, delivering frequent flyer news, miles and points to the European reader.