Qatar Airways is adding another destination to its network and in the process – expanding its US network, as San Francisco will be served by the airline.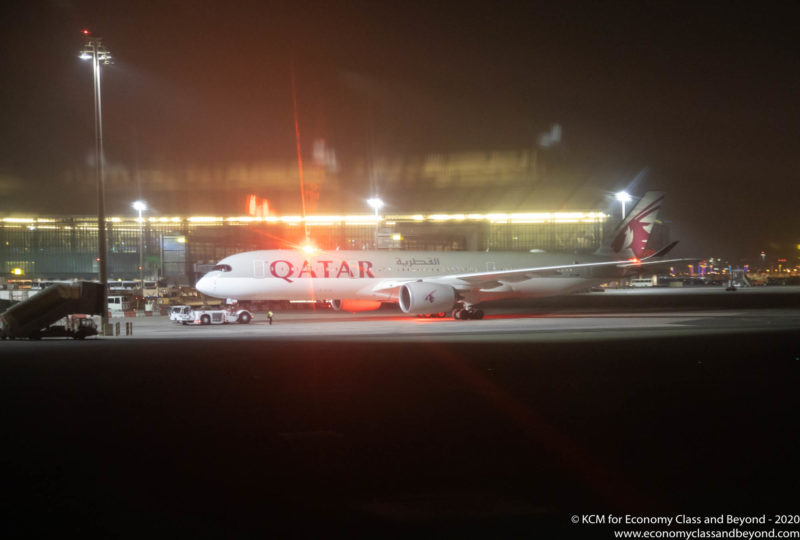 Qatar Airways Airbus A350-900 at Hamad International Airport, Image Economy Class and Beyond
The addition of San Francisco will build onto Qatar Airways current service to the U.S. which including Boston, Chicago, Dallas-Fort Worth, Houston, Los Angeles, New York, Philadelphia and Washington, D.C. . By mid-December, the carrier will fly 55 weekly flights to nine destinations in the U.S, with onward connections available with h American Airlines and JetBlue.
The new route to the West Coast city will start on the 15th December, operating four times a week. Planned operation is as follows
Planned operations is as follows
QR737 DEPART DOH 08:15 ARRIVE SFO 12:55
QR738 DEPART SFO 14:55 ARRIVE DOH 17:15+1

Commences 15th December
Operates Tuesday, Thursday, Saturday & Sunday
Booked Equipment: Airbus A350-900
The San Francisco service will be operated by Qatar Airways Airbus A350-900 featuring 36 seats in Qsuite Business Class (in a 1-2-1 formation) and 247 seats in Economy Class (in a 3-3-3 formation). There will also be belly space for cargo with an addition of 60 tonnes of extra capacity available.
You'll be looking at over 15 hours in the air each-way, putting into the "ultra-long-range" routes.
In Quotes
Qatar Airways Group Chief Executive, Mr Akbar Al Baker, said:
"We are thrilled to welcome San Francisco as our newest destination, and our ninth current gateway in the U.S. As we navigate the crisis, we have made it a priority to not only reinstate our existing destinations and be the airline travellers can rely on, but to also grow our network and increase connectivity with new and relevant destinations for our customers to enjoy.

"As the gateway to Silicon Valley and the vibrant tech economy, the San Francisco Bay Area is a globally important destination, both from a business and leisure perspective. Populated with many people wanting to visit friends, families or business partners overseas, Qatar Airways is perfectly positioned as the reliable airline partner to enable traffic in and out of the area. We are excited as we launch this new destination making it easier for our passengers to reunite with their loved ones, having taken more than 220,000 Americans home to the U.S. via scheduled and chartered flights amidst the pandemic."
Mayor of San Francisco, Ms London N. Breed, said: "
On behalf of the City and County of San Francisco I'm proud to welcome Qatar Airways to San Francisco International Airport as they initiate their new nonstop service to Doha this coming December. During recent months we have seen expanding international air service from our airport and highly welcome these new flights which will serve our community and its travel needs. We welcome Qatar Airways to our city and to our world-class airport and look forward to their success in San Francisco."
San Francisco International Airport Director, Mr Ivar C. Satero said:
"We are proud to welcome Qatar Airways' new nonstop service between San Francisco and Doha this December. As airlines restore travel destinations around the world, we applaud the vision of Qatar Airways to make this new route a reality, and we look forward to offering a world-class airport experience to travellers from its network.
---
Welcome to Economy Class and Beyond – Your no-nonsense guide to network news, honest reviews, with in-depth coverage, unique research as well as the humour and madness as I only know how to deliver.
Follow me on Twitter at @EconomyBeyond for the latest updates! You can follow me on Instagram too!
Also remember that as well as being part of BoardingArea, we're also part of BoardingArea.eu, delivering frequent flyer news, miles and points to the European reader.