Qatar Airways isn't being shy and retiring about its network as it plans to boost its US Network and restart its operation to Atlanta.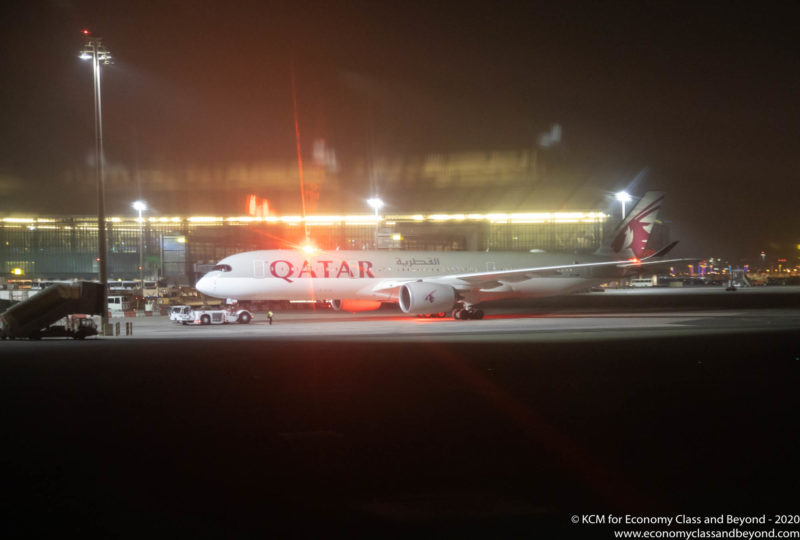 Qatar Airways Airbus A350-900 at Hamad International Airport, Image Economy Class and Beyond
With Atlanta rejoining the Qatar Airways network, this will be the 12th US route the airline operates. It will operate a flight four-times a week from the 1st June.
As part of the network rebuild, other routes are gaining frequencies from Doha. These include:
Atlanta (four weekly flights starting 1 June)
Chicago (increasing to 10 weekly flights from 4 March)
Dallas-Fort Worth (increasing to 10 weekly flights from 2 March)
Houston (daily flights from 14 March)
Miami (increasing to three weekly flights from 3 July)
San Francisco (daily flights by 2 July)
Seattle (four weekly flights starting 29 January, daily flights by 1 July)
The move will increase capacity to 83 weekly flights between the US and Doha.
Qatar Airways serve Boston, Chicago, Dallas-Fort Worth, Houston, Los Angeles, Miami, New York, Philadelphia, San Francisco and Washington, D.C – with now Atlanta and Seattle joining the network, allowing passengers to connect through Doha and beyond, with the airline aiming to connect to 130 destinations by March 2021, offering connections to Africa, Asia and the Middle East.
The airline offers further connectivity with its partners in the USA through strategic partnerships with Alaska Airlines, American Airlines and JetBlue, allowing you to connect beyond the major hubs.
In Quotes
Qatar Airways Group Chief Executive, Mr Akbar Al Baker, said:
"We are proud to be the leading Middle East airline providing safe and reliable connectivity to and from the United States via the Best Airport in the Middle East, Hamad International Airport. Having never stopped flying to the U.S. throughout the pandemic, we have steadily rebuilt our network, gradually resuming destinations and adding more frequencies. With the upcoming launch of Seattle and the resumption of Atlanta, we will reach 12 gateways in the U.S, two more than what we operated pre-COVID-19.
"Our commitment to the U.S. market has also seen us add and expand strategic partnerships with American carriers, offering our passengers hundreds of additional flight connections with Alaska Airlines, American Airlines and JetBlue. As we look forward to global travel recovering in 2021, we will remain focused on providing seamless, safe and reliable connectivity to our millions of passengers and ensuring we continue to earn their trust every time they choose to fly with Qatar Airways."
Still offering changes
Whilst there still a lot of uncertainty with travel (with constantly changing travel bans), Qatar Airways offers unlimited date changes and fee-free refunds for all tickets issued before 30 April 2021, for travel completed by 31 December 2021. The carrier's flexible booking policy also provides the permanent feature of exchanging tickets for a travel voucher with 10% additional value for all customers booking travel via qatarairways.com.
For full terms and conditions visit qatarairways.com/Flexibility.
---
Welcome to Economy Class and Beyond – Your no-nonsense guide to network news, honest reviews, with in-depth coverage, unique research as well as the humour and madness as I only know how to deliver.
Follow me on Twitter at @EconomyBeyond for the latest updates! You can follow me on Instagram too!
Also remember that we are part of the BoardingArea community, bringing you the latest frequent flyer news from around the world.