It's time for some more Travel Technology – this week looking at an upgrade to a product I've reviewed before – the Dell Latitude 5410.
Is it still a mediocre laptop, or are there generational upgrades that can make a real difference?
Like previous laptops reviews, this is going to be much more of a "hands-on" review rather than full of benchmarks and how it behaves in day-to-day life.
What is it?
The Dell Latitude 5410 laptop is a mid-level laptop, designed for the corporate road warrior, the worker from home, or the worker who is working at home for some pandemic related reason. This time, however, Dell has dropped the dark slate grey for a more silvery finish.
But it's still a silvery/grey square.
Specifications as tested
With Dell, you can customise a laptop to your heart's content, but here's the one I've tested as delivered to me:
Processor: Intel Core 10th Generation i5 (Comet Lake) with an i5-10310U, clocked at 1.7Ghz base, boosting to 3Ghz
Graphics: Integrated Intel UHD Graphics
Memory: 8Gb memory
Storage 256Gb nVME Solid State Drive
14" Wide Viewing Angle Display with Matt Coating
Camera and Microphone
As configured, a model close to this is on sale at Dell.com for £829+VAT (£994.80 including VAT at the time of writing). Of course, your price will vary depending on the exact configuration. The laptop is on sale in most Dell markets.
In the box
Those of you looking for all the things in the laptop box may be disappointed. In the box, you will find:

It's classic unbleached Dell boxes. But if you've seen one Dell box, you've seen most of them.
In the box, it's packed a lot better than previous versions which just had cardboard holders, replacing it with foam.
A 90-Watt Dell USB-C Charger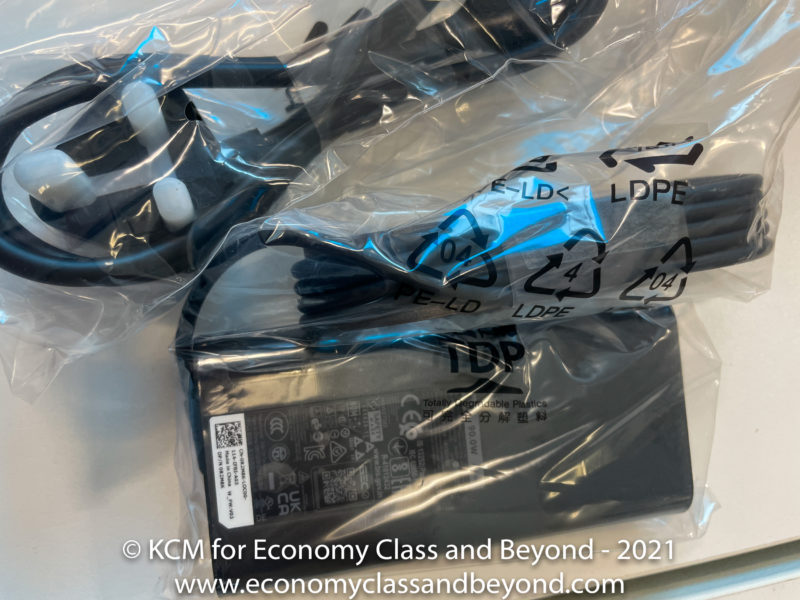 In terms of documentation:
A QuickStart guide
A Mobile Broadband
Safety and regulatory information
Sparse, but enough to get you going.
Looking around the device
Let us have a quick look at the ports on this laptop
On the left-hand side:
Dell Barrel Power Adaptor (for any Dell made since… forever…)
1 x USB 3.2 port with Power Delivery & DisplayPort
1 x USB 3.1 port with Power Share
1 x Smartcard Terminal
On the right-hand side
1 x Micro SIM card tray
1 x Micro SD socket
1 x Combi Headphone/Audio socket
2 x USB 3.1 A ports
1 x Full Sized HDMI port
1 x RJ-45 port at 100Mb/1Gb (with a retractable port)
1 x Noble Wedge Lock slot
The Casing
If the last case was mediocre, the silver-grey is a bit more… well… mediocre. I guess we're into the silver-grey fashion again.
Of course, it has a Dell logo stamped on it. It's not going to offend anyone with its business-friendly looks and features.
Plastic construction is the order of the day for the construction of the case – so it will survive the odd knock or two. Put it like this, if you throw it in a laptop bag, it will not need special treatment.
The Screen
Once again, if there is something to be let down by, the screen isn't what I'd call good. Whilst it is rated for 220nits of brightness, the VA panel shows its weakness when not looking directly at it – moving to a side shows some ugly colour shift.
If you are working from home, invest in another screen (and preferably, an IPS display if you're using it for business use) – your eyes will thank you. If you need something more colour accurate, you will need to dig around to ensure that it meets your needs.
The screen is a 14″ model, displaying in Full-HD (1920 x 1080). As delivered, Windows set this for 150% scaling.
The screen in this configuration is not a touchscreen, which Dells offers for this laptop.
Running the Crab Rave visual test, the colours were passable but did suffer from colour-shift, when moving around the monitor.
Although good enough to enjoy Crab Rave on.
Audio
The Dell Latitude 5410 speaker are a little bit of a downgrade from the previous version – whilst it can pump out Crab Rave quite happily and the heavy bangs of Nightwish's Aramath, it struggles in the trebles, unable to cope with the joiking of Keiino.
It will pass for conference calls, but not one to play head-banging tunes on at any volume.
The Keyboard and Touchpad
The keyboard feels a little softer than the previous version but is still more than passable. The travel seems to be rather comfortable, with a nice bounce to it. The keyboard is not that offensive to use, with reasonable travel.
If you are going to be using this laptop at home – it is good for hours on end. However, you may want to invest in a keyboard if you find it tight for your use.
It also comes with a trackpad which is not bad but doesn't excel in any way, supporting some multi-touch functions. For those who are lovers of pointing sticks, there is one here that is useful if you're a fan of that input method.
Thankfully, there is more than enough connectivity on the machine to add a mouse on if that is your preferred pointing method.
Weight
That laptop comes in a reasonable 1.48 kg (3.26 lb – the same weight as the previous model). It is not heavy to the point where you will notice it in your bag, but it has a presence thanks to its physical size.
Authentication Methods
In Windows, this laptop will support a Smartcard, PIN, Touch or Password to gain access to the computer.
Those looking for Windows Hello should look for another model – as this laptop does not support it in the configuration being reviewed.
Battery
The laptop comes with 4 Cell 68Whr capable battery built-in. Following the modern design language of laptops, the battery is not swappable easily and requires the back of the laptop to be removed to access the battery (remember batteries you could swap out when they went bad? What halcyon days…).
The battery should see you easily through a business day if doing light tasks. If you are doing heavy tasks (or running Windows update), expect the battery to drain in around five to six hours or so.
Expandability
There is a USB-C/Thunderbolt port on the device, for those of you who need to expand. This allows you to connect a dock to it, so you can connect monitors and other devices to it. Again – check if your laptop comes with either port – Thunderbolt allows a lot more bandwidth compared to USB-C (USB 3.2).
In the configuration delivered, the laptop I have has USB-C 3.2 on, allowing DisplayPort to be used, as well as Power Delivery (allowing you to charge with a USB-C Charger, a USB-C Hub or Dock)
Otherwise, it has three USB 3.1 A ports to plug-in peripherals, onboard networking as well as Wi-Fi.
In Testing
Let us do a Cinebench just to please those who love benchmarks. As usual, I am running Cinebench R20, to have a compatible set of results when I test different laptops (yes, I'm aware that Cinebench R23 is a thing, but these laptops tend to arrive, then vanish shortly to people who need them).
The laptop runs an Intel i5-10310U (ultra-low voltage) CPU. It has four processing cores and eight threads for multitasking. With a base clock of 1.7ghz, boosting to 4.4Ghz, I'm expecting a reasonable performance in this benchmark.
Performance during the bench hit around 3Ghz, dropping to 2.2 during the run, with the laptop exhibiting boosts and slowdowns.
In the end, a Cinebench score of 1402 was recorded. This compares the Dell 5400 (running a previous generation i5-8265U) which scored a Cinebench score of 1254.
Running GeekBench, there are generational uplifts too:
Single-Core: 972 (verses 914)
Multi-Core: 3609 (versions 2588)
There are some performance uplifts in general processing and day-to-day use, both in single and multi-thread tests – which should make it feel a little faster in day-to-day use.
Running various applications, YouTube was more than happy running through Microsoft Edge with a few tabs open. In Microsoft Office tests, applications flew and were able to function as appropriate without any worries.
Use Cases
Once again, we are looking at a business workers laptop here. It's perfect for those who are married to reasonably sized spreadsheets, long documents, hours of meetings in Teams and Webex. For those who are thinking of using them in schools, the build quality will be enough so if you drop them, they're protected enough not to crack the screen the first time (though you might want to consider something more rugged. And cheaper).
For those seeking to communicate, the webcam is passable, although you might want to invest in a decent one if you're relying on clear High-Definition images.
The Graphics processor unfortunately is the Intel UHD 620. It will handle light games, Solitaire or YouTube without an issue, but don't expect to run gaming workloads through this laptop (but you should have guessed this by now).
For Creatives, this might work at a pinch for light photo editing or light video editing – however, you might need to recalibrate the screen (and preferably – use an external display if you're demanding colour-accurate work). Developers will find the eight threads useful, although they might be better looking at the Intel i7 models if they're compiling regularly (and will be silently wishing for AMD powered versions).
Another Grey Slab that'll satisfy IT Teams, that'll "get the job done"
It should be noted again that most first-time buyers for these laptops will not be individuals or home users – rather, it will be corporates and large organisations who will buy these by the pallet-load, image them with their own Windows set up and fling them out of the door to users who have broken their existing devices.
If you get one of these in your possession, no doubt you will just flip the lid open, login and connect to your work presence to carry out the duties that pay the bill each day.
For those considering picking up something like this for home use, my advice remains the same. If you are buying new – looks elsewhere for better performance and value. There are plenty of better options out there (especially if you need graphical horsepower). If you do want to pick one of these up for the home as a second laptop, or as a cheaper first laptop, you will want to wait 2-3 years from release, when these are being disposed of by corporates and are being resold on the second-hand markets (such as eBay, Morgan Computers and so on).
It is grey. It is light grey. It is still a mediocre device, being an all-rounder and not excelling at anything. Its build quality will mean it will stand the rough and tumble of a rucksack or a case, the crumbles of a pack of crisps as you eat over it at lunch.
I am going to be blunt – this laptop is mediocre as hell. It will not have the performance of the Alienware gaming laptops, nor will have the rattly plastic of Inspiron consumer-level equipment. It will not have the design flair of an HP Envy or MacBook, but it will not let you down like that £400/$400 laptops you picked up on a whim at a supermarket.
And that is the point of laptops like these – fleet laptops. They are distributed to help workers do their job. They are not there to play games or flight sims, rather the boring business world they live in.
And the Dell Latitude 5410 excels in this.
---
Welcome to Economy Class and Beyond – Your no-nonsense guide to network news, honest reviews, with in-depth coverage, unique research as well as the humour and madness as I only know how to deliver.
Follow me on Twitter at @EconomyBeyond for the latest updates! You can follow me on Instagram too!
Also remember that we are part of the BoardingArea community, bringing you the latest frequent flyer news from around the world.